Bitch and Animal: Eternally Hard (CD)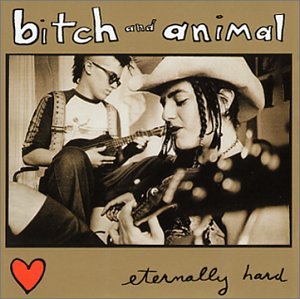 Bitch and Animal: Eternally Hard (CD)
After hearing Bitch and Animal, Ani Difranco took them on tour and produced and released this album. Packed with a mix of their notoriously in-your-face sex-positive politics and tender ballads.
Richard Hilburn of the Los Angeles Times named it as one of the top ten freshman albums of 2001:
"There was a lot of the usual confrontation and anger in rock this year, but not much extremism, which is one of the virtues of this female duo's "eternally hard" album, from Ani Difranco's label, Righteous Babe Records.
The language is crude in places, but the body-part references are often broadsides at stereotypes in these tales of sexual and social politics.
There is a lesbian sensibility at work, with a humor and underlying vulnerability that is almost always universal.
The pair can also wrap a lot of commentary into a single line: "I'm just a little girl boy/trying to make my way/in a man's world."
Released in 2001, Righteous Babe Records
Track Listing:
Best Cock on the Block

Traffic

Scrap Metal

Boy Girl Wonder

Pissed

Passports

Blah Do Blay

Sparkly Queen Areola

Six States Away

Ganja

Mother's Day

33 Zen Lane

Miss Me My Dear